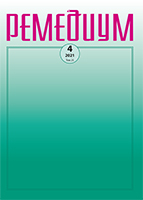 REMEDIUM
Chief Editor
Professor Khabriev Ramil Usmanovich - Academician of the Russian Academy of Sciences, DSc in Medicine, DSc in Pharmaceuticals.
Journal Founder
FSSBI «N.A. Semashko National Research Institute of Public Health»
Periodicity
Since 1997.
Every 3 months, 4 times a year
Indexing
Journal mission
The topics of the scientific research, the results of which are reflected in the pages of the journal, are focused on the following areas:
- organization of pharmaceutical business;
- public health and healthcare, history and sociology of medicine;
- problems of drug supply;
- research and development of pharmaceuticals and medical equipment;
- pharmacology and clinical pharmacology;
- economic and social aspects of the pharmaceuticals and medical equipment market;
- legal aspects of drug provision;
- sociological analysis of the development of the pharmaceutical market; inequality and affordability of medicines;
- current trends in healthcare organization;
- medical management and marketing
The journal is registered with the Federal Service for Supervision of Communications, Information Technology and Mass Media (Roskomnadzor) (certificate ПИ No. ФС 77 - 82251 dated 02.11.2021.
Announcements
No announcements have been published.
Current Issue
Vol 27, No 3 (2023)